Join The Windsor Womens 10K Family – Become an Ambassador!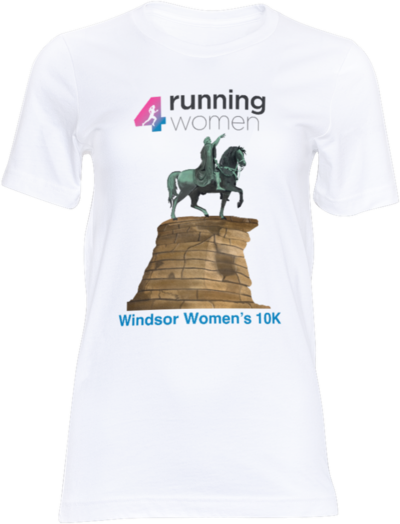 What we are looking for in an Ambassador:
You must show enthusiasm for the Windsor Womens 10K.
A strong Social Media following would be good.
Good connections within the sports community: Running Clubs, Running Stores, Gyms, Running Groups – basically anywhere you can be expected to promote the 10K.
You will have run the Windsor Womens 10K at least once before.
What is an Ambassador expected to do:
Promote the Windsor Womens 10K online through your Social Media channels.
Promote the Event offline: distribute flyers to local Running Clubs, Retailers. Go to other Events wearing our Ambassadors T-shirt. We will supply the flyers on request.
Contribute content: images, video to do with the Windsor Womens 10K
What an Ambassador will receive:
You will receive an Ambassadors T-Shirt (See image above left) once you have been accepted as a Windsor Womens 10K Ambassador.
We will provide you with 20 Ambassador Codes for each invited runner to use in our online entry system, This way we can track the number of entries allocated to you.
Upon achieving 5 entries you will be refunded your entry fee.
Upon achieving 20 entries you will receive one of the Windsor Running Festival Collections T-Shirts – an example is shown on the left.
Just fill the form in below and we will contact you within 24 hours!
You MUST Already Have a Place in The Windsor Womens 10K 2023 BEFORE you become an Ambassador!
AMBASSADOR APPLICATION FORM